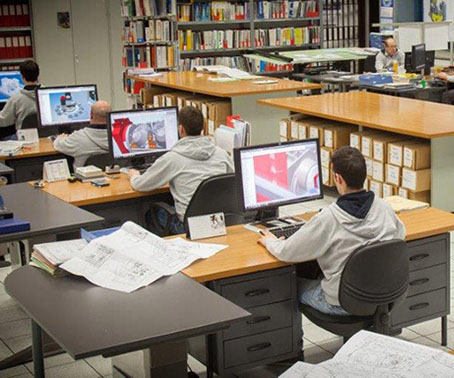 Mr. Trevisan started the company back in 1963, by building specially designed machines for the customers needs. Today, Trevisan still carries on the legacy engineering custom machines to meet the customers' ever changing and more demanding needs. Many of these customized machines are configured using the proven technology of the standard machining lines and reconfigured or modified to meet the special requirements of our customers throughout the world.
The Trevisan Engineering team has a passion for innovation and technology. They team up to help each customer get the most out of their machines by working with them each step of the way. This could be as simple as verifying sizes and minor details and options or using our proven technology and our partners to build the machine around your product.
Trevisan has many specialized machines around the world in a number of industries. We love to build and innovate new machines for our customers. If you have any questions or want to request some information, contact us using the request form, email info@trevisanusa.com, or call us at 86-254-5120. If you send us your project needs we will design a machine around your product(s).